Okra in cosmetic products
The knowledge involving the effects of okra on the skin dates back as far as Cleopatra, and it has recently been proven in a clinical trial that okra contains MYOXINOL. Myoxinol is a herbal alternative to Botox, and it can thus be considered that okra contains "herbal Botox". This herbal Botox prevents muscles from contracting, relaxes them, and brings them into a placid state. Through skin, okra in cosmetic products prevents the harmful effects of free radicals, fills in wrinkles, and tightens the skin.
Okra Soaps
are designed for gentle and complete cleansing, as a face and body scrub, and they prepare the skin for further care. They do not make the skin dry, but tender and fresh. OKRA SOAPS contain healthy herbal ingredients (calendula, coffee, cinnamon), and are made in various sizes and shapes.
Okra Tonic
is a pure okra hydrosol and it has a wide range of use. It is used for hydrating and refreshing the skin, as an after-shave lotion and for healing all wounds and skin damage. Suitable for all ages, and for gentle and problematic skin. Combined with OKRA OIL, OKRA TONIC has the widest range in skin, hair and nail care.
Okra Oil
is made of high-quality oils used for massage, relaxation and skin care. It has a faint fragrance and it is ideal for the whole body. Applied to moist skin after showering, OKRA OIL makes the skin velvety and elastic. Each household can make great use of OKRA OIL and OKRA TONIC.
Okra Cream with Virgin Beeswax
has a particularly pronounced "BOTOX" effect on mature skin. Having "night cream" and "dry skin" features, this is a universal cream which will surely prove worthy of your trust. OKRA CREAM WITH VIRGIN BEESWAX is an excellent cream for cold winter days.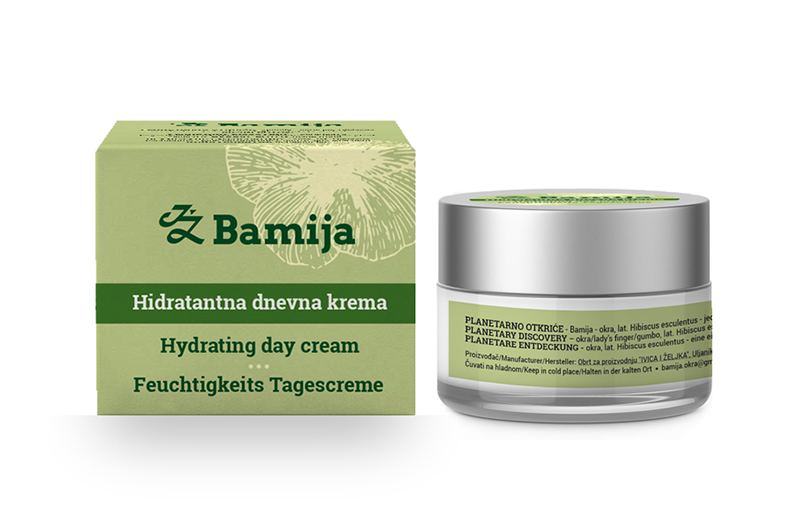 Okra Hydrating Cream
is a natural face and body cream. It is absorbed into the skin simply and quickly, making it soft and smooth. It regenerates and nourishes all skin types, and its properties are focused on the "day cream" feature. It is especially efficient in smoothing away face wrinkles and wrinkles under the eyes. It demonstrated excellent primary improvements in the treatment of PSORIASIS. The OKRA HYDRATING CREAM and OKRA TONIC are an ideal combination in treating teenage acne problems.
Okra Hand Cream
is a new gem of the OKRA cosmetics collection. This herbal cream with SHEA BUTTER is especially made for the protection of sensitive skin. It is easily absorbed into the skin making it velvety soft, and not sticky or greasy. Thanks to its lightweight structure, after a few minutes, you can already continue your daily activities without leaving any greasy traces. Recommended for everyday use.
Okra Shampoo
is a universal, herbal shampoo made with nettle. It is ideal for strengthening hair follicles and it has an anti-dandruff effect. Given its natural origin, it allows hair to be washed frequently without making it dry. The natural ingredients involving okra and nettle have a beneficial and cleansing effect both on hair and on the scalp. OKRA OIL applied 30 minutes before washing, OKRA SHAMPOO for washing, and OKRA HYDROSOLE after hair washing, provide your hair with the perfect care.
Okra Balm
is a typical, natural "folk remedy". Made with CALENDULA, it is indispensable in the treatment of HEMORRHOIDS, ideal for enlarged veins and wounds which are difficult to heal, and it is very effective in treating problems involving hard skin on the feet. Owing to its "miraculous" effects, the OKRA BALM truly deserves a privileged position in all medical cabinets.